It is fundamental to understand something fully before taking action.
Preliminary assessments help determine which choices to make and set the stage for the final result. With years of international experience in design and architecture, Idea Design International offers consulting on the technical, functional, and aesthetic aspects of a project, developing feasibility studies and preliminary drafts designed to resolve functional or aesthetic issues. We feel it's better to make a small investment in assessment than big investments in rectifying errors.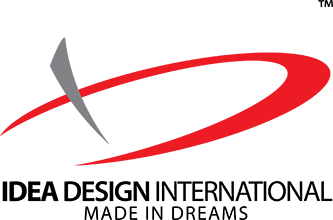 IDEA DESIGN INTERNATIONAL
Every creation is tailored to perfectly merge dreams and funcionality.
This is the professional standard our company prides itself on and offers to its clientele and those seeking assistance outside of their own organization.
The experience we've gained and studies we've carried out over the years help us imagine what the finished product will look like even before it is sketched out on paper. That's not something that comes naturally to everyone. Even back in the Renaissance, master artists and architects understood the need to develop drawing techniques that would express their subjects in detail and in 3D, giving them lifelike substance.
Many years have passed since then – now we have computers. Idea Design International transfers all of its inspiration and technological expertise to the drawing, turning it into a virtual representation through parametric 3D modeling programs. Potential construction issues can be resolved by looking at the elements in question, assembly processes can be visualized in advance, and construction costs estimated. All of this technological research developed through 3D modeling is then transferred to rendering programs, which apply materials and lights to transform imagination into virtual reality.
Imagine a dream that takes shape like the brushstrokes of an artist immersed in bringing a portrait to life.
IDEA DESIGN INTERNATIONAL
Technical drawing starts with talent, but is perfected through knowledge, experience, and dedication.
It's a proven science defined by strict and well-organized phases of work. Idea Design International applies all of this in its comprehensive service, handling all aspects of design, from aesthetics to construction. We provide our expertise and international experience to combine design with planning guidelines and static sciences. We go so far as to make a construction plan for each individual element, so that the craftsmen can complete them perfectly, the operational expenses and methods can be evaluated, and finally, so that we can achieve excellence by focusing on detail. This is the commitment we have to our clientele and to those who turn to us for outside consulting
IDEA DESIGN INTERNATIONAL
Every element, shape or line designed from Idea Design is an ideal World.
DRAFTING SPECIFICATIONS
AND OVERSEEING WORK
In order for goals to be reached, inspiration and imagination must be guided by rational thought and organization.
This is why we compile detailed lists of project specifications with regard to the work to be completed, quantities, and materials, providing relevant documentation and quotes on costs, in addition to developing plans and timelines for the project.
We also offer our experience in verifying the completion of works, and personally overseeing operations and handling quality control.